Regardless of whether you are visiting Dubrovnik for the first time or the hundredth, the sense of awe and beauty when you set eyes on the Stradun never fades. Indeed it's hard to imagine anyone becoming jaded by the city's marble streets, baroque buildings and the endless shimmer of the Adriatic, or failing to be inspired by a walk along the ancient city walls that have protected this civilised, sophisticated republic for five centuries.

Although the shelling of Dubrovnik in 1991 horrified the world, the city has bounced back with characteristic vigour to enchant visitors again. Take the revamped cable car up to Mt Srđ. Marvel at the Mediterranean lifestyle and the interplay of light and stone. Trace the rise and fall of Dubrovnik in museums replete with art and artefacts. Exhaust yourself retracing history, then plunge into the azure sea.
—Lonely Planet
It kind of makes me sad to write this post, because Dubrovnik is the last stop on my trip. I remember during my three-week Nordic adventure starting to feel like the days were slipping by so fast even toward the end of the first week.
If I've read the bus schedule correctly, I will depart Korčula at 06:30 and arrive in Dubrovnik by 10:00. It turns out the bus ride includes a short ferry from just outside Korčula to Orebić, on the Pelješac peninsula. I'm hoping there will be some nice views on this route.
With three nights in Dubrovnik followed by an early-morning flight, that leaves me the better part of three full days. One of those will be a day trip to Montenegro, and there are other options for a second day trip. (I'll put those in a separate post.) Whether I end up with one or two days in Dubrovnik, I am confident that I will happily soak it up.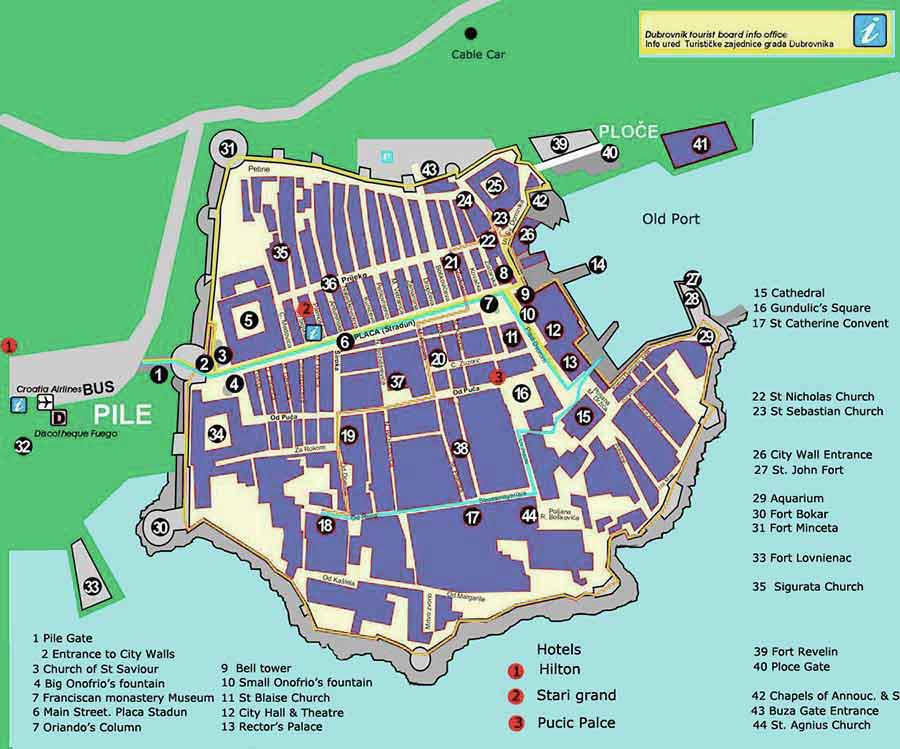 Wandering the Stradun (6) and walking the town walls seem like the prime activities, but just roaming the old town to see what there is to see will likely reap many rewards.
Stradun
A view of Dubrovnik from the town walls
Minčeta Tower, the highest point on the town walls
Dubrovnik's Cathedral was originally built by Richard the Lionhearted on his way back from the Third Crusade. It was destroyed in the earthquake of 1667. This one dates from the 18th century.
One of two bars you get to through a hole in the wall
I'm looking forward to riding this cable car to the top of Mount Srđ just for the view.
I've
already written
about Montenegro, but in my next post I'll write about other possible excursions in case I get bored in Dubrovnik.
If I had to pick just one place to visit in Croatia, this would be it. (Rick Steves)